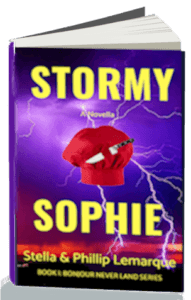 Reviews:
Barbara Doran-Roget

wrote:
This is my review of Stormy Sophie:
This was a welcome break from my normal choice of books. I would have liked it more!! Because I read the second book in the series first, I should have done it in reversed fashion because here we get an inkling into their story and how they came up with the ingenious idea of cooking for celebrities. Necessity is the mother of invention, they say, and they certainly have the skills to pull it off. Phillip is the narrator and it's obvious how much he adores his wife, who suffers no fools, as they unpack their bags and tackle whatever wacky celebrities call them next. I love the visual images and the little witticisms sprinkled throughout. Philip is a survivor, making up stories as he goes and weaving himself in and out of tricky situations. It seems as if Sophie prides herself on being intimidating. This is a typical tongue-in-cheek sample: My chest swells against my waistcoat, which, as Sophie says, enforces discipline in me, like a straightjacket.' Or: Sophie is an expert confession wringer. I admire her technique. She's pretty good with cold cuts too. She has them arranged in a jiffy. And another: two people in white bathrobes and Ray-bans are reclining on comfortable chaise lounges and sipping Bloody Marys. For company they are joined by two amputee statues of Greek goddesses. I hope they manage to buy their dream house in Provence one day!
Ere's my review of Money Galore.
This was an amusing read. Something different to take your thoughts of everyday life. The Lemarques have maneuvered their way into a unique position of cooking for a variety of celebrities. We get to take a look through the peephole at the absurdities of the life of the super-rich. It's a fun and easy page-turner, sprinkled with wit and humor. 'When I'm in here, the door magically disappears. I don't want you to come in here, ever. I have alarms in here to make sure.' I make a mental note, of course, to look around in their first chance I get.' Ooh. He's a naughty man indeed!! Or: 'My headaches with misfortune and the consolation of Louis XIII, which I seek as soon as we reach the sanctuary of our studio. Misfortune. Missed fortune. 'Madame is not happy,' says Sophie. Sophie, it turns, out is super intuitive. 'There's something in the wind, Pierre.' 'Cash?' I regret my sarcasm as soon as it pops out. Sophie raises one eyebrow and crosses her arms, but in her eyes, I see the ocean of compassion she has for me.' And this nice poetic touch: 'We sit on the back deck and watch the moon primping itself in the mirror of Lake Tahoe.' I look forward to reading more and would love the cookbook with pictures, of course.