Just for visiting our web site get this gift from us: created by Stella Chef to the Stars
The 2 Favorite Recipes of Michael Jackson
(click on the book below to download your gift)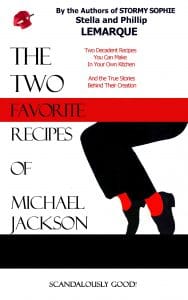 COMING UP 

SOON

  BOOK-3
of the Series: 
BONJOUR NEVER LAND
                                    
                           Book-1                                       Book-2
Titles available on Amazon
                        
                        Book-4                                              Book-5
coming summer of  2020

If you enjoyed The "Devil Wears Prada," "Nannies Diary" and "Crazy Asians" you'll love "Stormy Sophie." Book-1 of our series Bonjour Never Land.  Sophie's hot temper and Pierre complacency for a well-supplied wine cellar will lead the two scoundrels in a series of bizarre, hilarious, and even suspenseful adventures. In a world, they knew too well before they lose their respective fortune. "Stormy Sophie" the first novella of the series now available for your pleasure on Amazon. The sequel: "Money Galore" is also available on Amazon. Subscribe to Stella's Easy Recipes to be kept aware of all future publications including the  "Crazy Rich Kitchen Diary"  
The authors Stella and Phillip Lemarque
Stormy Sophie Book-1 of the Series Bonjour Never Land

BONJOUR NEVER LAND

accounts for the unusual story of Sophie and Pierre during a five years stint in the world of the RICH and FAMOUS. Their story is a succession of events some hysterical, humorous, unexpected and frightening at times. Book-1 Stormy Sophie and Book-2 Money Galore are already available on Amazon. Added to the stew: Book-2 Marlon Brando Extravagant Dinner the 2nd chapter of Stella Chef to the Stars Crazy Rich Kitchen Diary. And something NEW: Herbs for Life 

a compilation and comprehensive reviews of the most popular herbs by Stella. The 1st chapter a very misunderstood

Cinnamon.

Titles available on Amazon