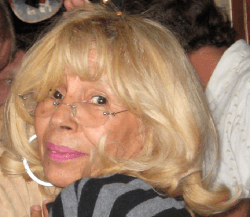 For this New Year 2021 and then after enjoy
a KIR ROYAL!
From the working class in Burgundy to the rich and famous with a slight improvement by replacing the white wine by Crystal Champagne to become The Kir Royal. As Sophie and Pierre did promote this famous drink wherever they worked in the realm of The Crazy Rich and Famous.
Even the name has changed from "Blanc-cassis," to KIR ROYAL. The name was given in the honor of the Dijon's mayor Félix Kir, after the Second World War.
Unfortunately, the Kir is not always prepared the right way.  Key ingredients: Use a good champagne Crystal, Veuve Clicquot yellow label, Dom Pérignon, Louis Roederer. I found a lulu at Ralph's a Korbel Rosé usually sells for $19.95 on sale for $12,95. Unbeatable vs quality / Price. Do not forget the black currant liquor!
Do not saturate the champagne with the black currant liquor, the mixture has to be pale pink, which will give your drink a slight taste of the fruit.