Who is MUSCADET?
Muscadet is a dry white wine from the Loire Valley Region. The area is on the Atlantic coast of Brittany and is the largest white wine appellation in France.
The best known wines of the region, Sancerre and Pouilly-Fumé, with the Chenin Blanc wines of Vouvray. 
Muscadet wines are made from a white grape called Melon de Bourgogne.
Muscadet wines are produced across four different appellations. 
1 Muscadet, which covers the entire wine-growing region and is dedicated exclusively to the production of crisp white wines from the Melon de Bourgogne grape. 2 Muscadet Sèvre et Maine, the name comes from the two rivers that flow through it. 3 Muscadet Côtes de Grandlieu in the southwest and 4 Muscadet Coteaux de la Loire in the east.
Many Muscadet wines are produced Sur lees,  a maturation technique whereby the wine is kept in contact with its lees—dead yeast cells—after the process of alcoholic fermentation takes place. Extended contact with the lees adds texture. 
The flavor profile of Muscadet wine can vary from very neutral to tangy and saline. Basic Muscadet wine is light in body and light in flavor, with joyful flavors.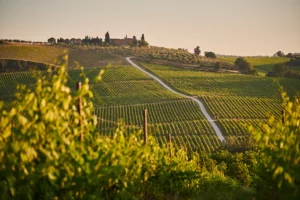 Stirring the lees makes for more flavorful and interesting Muscadet wines. Many Muscadet Sur Lie bottlings benefit from some bottle aging, Muscadet is not for long-term cellaring but for quick and easy consumption. Higher quality examples are more towards a tangy saltiness and notes of flinty minerality, with a smooth texture.
Pair this excellent wine with a dish of Crawfish Étouffée