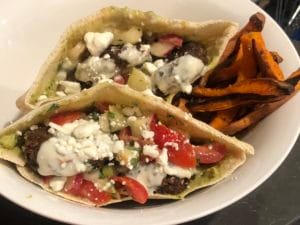 PREP TIME: 20 minutes
COOK TIME: 10 minutes
TOTAL TIME: 30 minutes
Servings: make 16 falafel (4 per person.)
Ingredients:
2 cups chickpeas (preferably from dry and soak overnight, are best)
1/3 cup chopped, fresh parsley
1/3 cup chopped, cilantro
4 cloves minced, garlic
3/4 cup minced, shallots
2 green onions, minced
1 tbsp minced, ginger 
3 tbsp chopped nuts, such as pecans or toasted sesame seeds
2 tbsp cumin,(+more to taste)
2 tbsp paprika (+)
1 tsp pepper flake (+ to taste)
1 tbsp Ceylon cinnamon
4 tbsp all-purpose flour)
1 egg, (scrambled with a splash of water)
1 tbsp baking soda 
Salt & pepper to taste.
Steps
1 – In a food processor or blender. Combine chickpeas, parsley, cilantro, cumin, shallots, green onions, sesame seeds/nuts, garlic, ginger, pepper flakes, Ceylon cinnamon, paprika, pepper flakes, salt & pepper to taste.
2 – Pulse until mixture is coarse and mushy—scraping down the sides as needed until thoroughly combined. You are looking to a crumble dough, not a paste.
3 – Add the egg, baking soda, and 1 tbsp of flour at a time, and pulse. Until it is no longer wet, and you can mold a ball without sticking to your hand. Taste, adjust seasoning as needed.
4 – This recipe makes 16 falafels ( I serve 4 falafels per person), form mixture into balls, or slider-shape patties, about 1 1/2 to 2" in diameter. You can make them smaller or larger depending on your personal preference. I flatten them a little bit on top. If the balls won't hold together, place the mixture back in the processor and continue processing to be more paste-like. I found out by refrigerating them overnight, the falafel will not fall apart. 
5 – In a skillet, heat 1" to 2" inch vegetable oil. The ideal temperature to fry falafel is between 350 to 370 F, the best way to monitor is to use a deep-fry or candy thermometer. Fry them in batches until golden brown, 2-3 minutes per side. Transfer to a paper towel-lined plate, cover with foil, to keep them hot.
OPTIONAL:
To bake them.
Preheat the oven to 400 F. Place each falafel on your oiled skillet. Bake them for about 10 minutes, on one side, then flip once, until golden brown on both sides, 20 to 25 minutes. Move them onto paper towels and let them rest a few minutes, cover with foil paper to keep them hot.
Serve: 
Cut the pita in the middle, to make 2 pockets. Serve 2 falafels per pita pocket, with lettuce, tomatoes, and cucumber. 
Drizzle with avocado yogurt sauce: 
Step, whisk avocado together with yogurt, lemon juice, dill, olive oil, and pepper flakes. 
Season with salt and pepper to taste.
Chef's Notes:
You can prepare the falafel mix ahead of time and keep it in the refrigerator for up to five days. Or freeze them for up to 2 months.