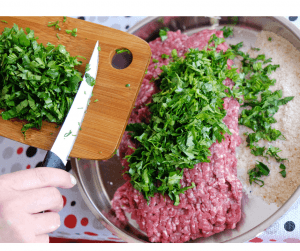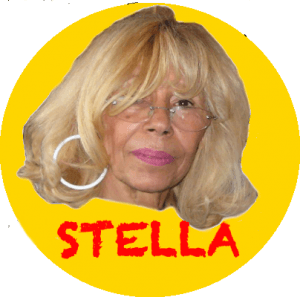 Prep Time 10 minutes
Cook Time 25 minutes
Total Time 35 minutes
Servings 10 Makes about 40 1-inch meatballs)
Ingredients
1 lb grass-fed ground beef
1/2

 

pound bulk Italian sausage (or removed from casings)
1 large egg (beaten)
1/2 cup finely minced onion

 

3 garlic cloves pressed
1/2 cup seasoned dry breadcrumbs

 

1/2 teaspoon grated nutmeg
1/ 2 teaspoon ground ginger
1 teaspoon turmeric
1/2 teaspoon coriander

 

1/2 teaspoon ground cumin

 

1/4 teaspoon ground cinnamon
2 tbsp fresh parsley minced
2 tbsp fresh cilantro minced
1 to 2 tablespoon beef or chicken broth, using just enough broth to moisten.
In a large mixing bowl combine sausage meat with the ground beef and mix well. Add the beaten egg, minced onion, pressed garlic, nutmeg, paprika, cumin, coriander, turmeric, cinnamon, ginger, breadcrumbs, parsley, cilantro, salt, and pepper.

 
You can add 1 to 2 tablespoon of broth to moisten the meat. Mix all together, until well combined. Make sure it's well seasoned and the seasoning is well dispersed.
Grease your hands with some cooking spray. Scoop out some meat using a cookie scoop, or like I am doing here with a Chinese spoon and roll meatballs,  into 1-inch diameter or circles. (You can make meatballs bigger or smaller according to your own preference).  
Place meatballs in a large skillet over hot olive oil over medium heat for 10 minutes or until browned, turning occasionally.
CHEF TIPS:
          May be prepared several hours in advance, up to a day. If you are not too spiced. Keep the spice out, but keep the parsley and instead of cilantro, replace it with fresh basil, and don't forget to add 1/2 cup of fresh grated Parmesan cheese to the pasta. You can replace cilantro with fresh basil.
And Now for the sauce Magnifico
MARINARA Sauce A la Stella
Served with Castello D'Albola Chianti Classico
1 cup olive oil
2 to 3 dry red pepper
1 1/2 cup chopped flat parsley leaves
1-28 ounce can whole plum tomatoes
4 smashed and roughly chopped garlic cloves
1 chicken or vegetable mini cubes
2 tbsp oregano
1 tsp sugar
1 tbsp tomato paste
Crushed red pepper flakes to taste
Salt & Pepper to taste
1 pound of any pasta to your liking ( I use penne pasta).
Step 1
Bring a pot of salted water to boil.
Step 2
Drain the can of whole tomatoes & crush them with a fork or hands. Set aside.
Step 3
In a heavy saucepan on medium heat. Add olive oil and let it sit for about 1 to 2 minutes. Stir the whole dried red pepper in. When oil starts sizzling add parsley. Wait 1 minute, and raise the heat to medium-high. Add the crushed plum tomatoes, garlic, sugar, tomato paste, oregano, and the mini-cubes. Cover and let it simmer. Stir occasionally until tomatoes break down and the mixture becomes saucy about 10 minutes. Turn down the heat to low. let it simmer uncovered for 5 minutes.
Step 4
Cook pasta, until tender or "al dente " which means there is still some bite to it. Drain quickly and toss with the sauce. Taste to adjust seasoning as necessary, if it needs some spiciness, add some crushed pepper flakes. Serve sprinkled with parsley, shave Parmigiano Reggiano, and Parmesan cheeses to top the dish.
CHEF NOTES: This sauce is the basis for any marinara sauce, now you can add anything you want, for example, cured pitted olives, capers, anchovy fillets and you just made yourself the best ever pasta a la puttanesca.
And here you have it. Enjoy!