Guacamole Recipe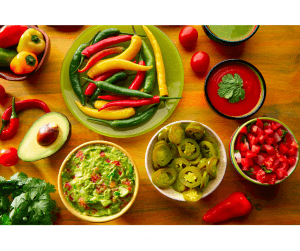 Ingredients
2 ripe avocados.
1/2 teaspoon Kosher salt.
1 Tbsp of fresh lime juice or lemon juice.
2 Tbsp to 1/4 cup of minced red onion or thinly sliced green onion.
1-2 Serrano chiles, stems and seeds removed, minced.
2 tablespoons cilantro (leaves and tender stems), finely chopped.
1 tomato minced and diced
A dash of freshly grated black pepper.
Add juice of one fresh lime immediately to prevent browning.
STEP
Add chopped onions, tomato, and cilantro. …
Add juice of second lime and then salt to taste. …
Add jalapeño to taste.
Serve with your favorite tortilla chips for a dip, or use with your favorite Mexican dish.
Chef's Tip The easiest guacamole: Take 2 ripe avocados add juice of one lemon immediately to prevent browning, and mixed in your favorite already made salsa.  if there is a 99c store in  your neighborhood, they offer a very good salsa, and you have the choice of regular or spicy, use the one to your preference. Enjoy For healthier chips Buy store tortillas, cut like  you would a pizza. Place the tortillas pieces on a flat oven baking tray and bake at 450o for 10 to 12 minutes (check often not to burn.)
Another tip from Stella
Keep store bought salad dry
How to keep a store bought fresh salad or fresh vegetable still fresh for one week or more.
 Choose the driest package on the store self. Check for any mist forming on the surface of the package.

 

Slice open the package to access the inside.
You will need paper towels.
With you hand and a paper towel reach the bottom of the package.
Turn the salad in every direction to dry it.
Leave clean paper towels surrounding the salad, it will absorb any humidity.
Close the package and press on it to exhale all the air from package.
Close with a paper clip.
Now you have a fresh salad preserved for at least a week.
Until next time enjoy all your meals to the fullest.
Bon Appétit!
Stella
Watch the Video
MeatBalls Recipe