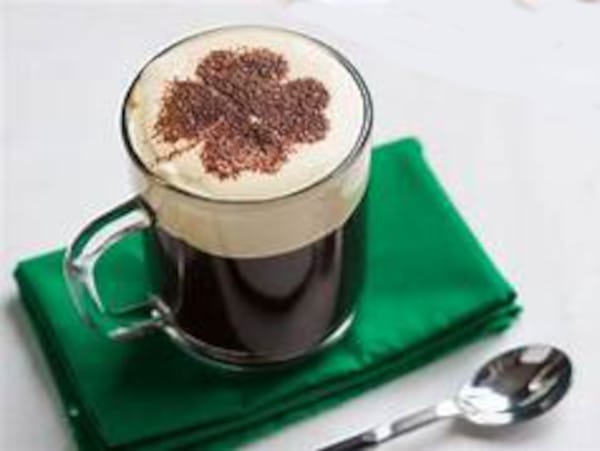 How to make it
Ingredients
2 teaspoons packed brown sugar, to taste variation: 1 1/2 tsp of Honey
4 ounces strong, hot French Roast Coffee
1 1/2 ounces Irish whiskey
1-ounce heavy cream, lightly whipped
Steps to Make It
Place the brown sugar into a warm Irish coffee glass mug or other heatproof glass.

Add the coffee and Irish whiskey, stir then float the lightly whipped heavy cream on top by slowly pouring it over the back of a spoon.

Tip Do not stir. Instead, drink the Irish coffee through the cream. Enjoy. 
Start with a great cup of coffee. To really experience authentic Irish coffee, you want rich, strong coffee. Try using a French press or pour-over brewer and high-end, freshly ground beans. Medium- to dark-roasted coffee works best.
Don't forget to preheat your glass. It keeps the drink warm and helps marry the ingredients. While the coffee is brewing, pour hot water into the glass, then discard it before building the drink.
Use freshly whipped cream. Avoid the whipped cream in a can; it will ruin your Irish coffee. Instead, do your own whipping cream by hand is best. Take the time to do it; the reward is great.