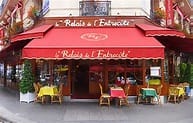 L'Entrecote is a famous restaurant in Paris, thanks to its secret sauce. Created by Arthur-Francois Dumont, Freddy for friends and acquaintances.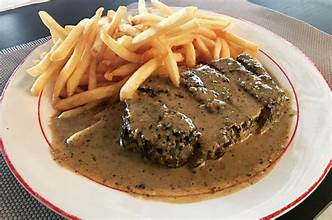 What is it all about? A rib-eye steak…, Big Deal. There are tons of restaurants serving rib-eye steak. Yes, there are, but none like this one. It all started in Geneva at the end of the Second World War. Back then, le Cafe de Paris started s to serve a rib-eye with French fries and a super-duper sauce created by Mr. Doubier, the father-in-law. Did folks out there love the deal, I guess, since now you have Entrecote Restaurants in Paris, Toulouse, Lyon, Madrid, New York, Beirut, Doha, Riyadh, and many more cities. The secret sauce made it; that sauce has been a secret for decennies. Well, you are in luck, Stella brings you her version, which according to everyone who tried both, claims a success.
You lucky devils here this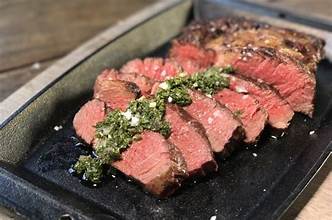 INGREDIENTS
For 4 guests
2 chicken livers cut in squares
2 to 3 shallots minced
2-3 leaves (according to size) of fresh thyme chopped
1 leave of fresh Tarragon chopped
A small bunch of parsley chopped
2 1/2 oz of cream
1 1/2 Tablespoons of Dijon mustard
2 1/2 Oz of butter
3 Cups of chicken broth
3 oz of red Bordeaux wine
THE STEPS
Sauté the shallots in the butter, add the thyme and the chicken liver. Cook together until lightly browned. In another pan, reduce the cream over low heat add the mustard. When thickened, add the broth, shallots, chicken liver, thyme, tarragon, parsley, and tarragon. After a few minutes, add the red wine. Reduce some more. Pass the mixture into a sieve and mix with the cream mustard preparation.
The Menu at L'Entrecote in Paris