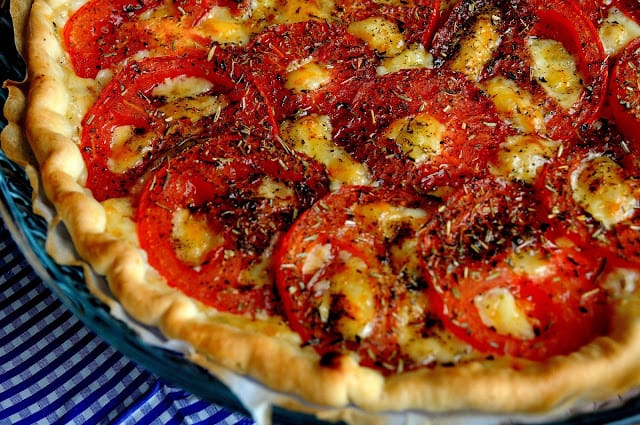 préparation : 10 min
cooking Time: 20-25 min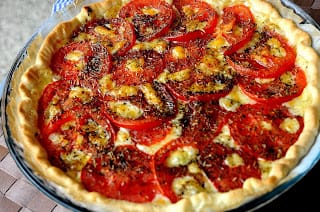 12 inch tart:
– Pate brisée ici
–4 tomatoes ( plus or minus according to size of tomatoes )
– Sliced Emmental –
Dijon Moutarde
-S & P  Provençâle herbs
– Olive oil
Préheat the oven to  le four à 360°
Slice the tomatoes in thin slices, remove seeds 
Spread the pastry dough pâte brisée in a 12" mold.
Spread the mustard all over the dough.
place the slice of Emental over the mustard.
S & P, add the Provencal herbs and drip olive oil over
Bake 20 to 25 minutes according to your oven
Bon appétit!!
Oops…, in case you don't know how to make a Pâte Brisée.
Pâte Brisée
Here is the recipe for the  Pâte Brisée!
It will keep in refrigerator for up to one week in a completely hermetic container or 3 months in the freezer.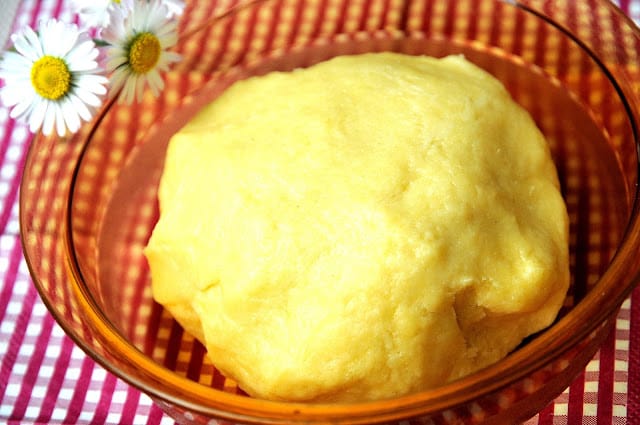 Préparation time  :15 min
For 450 grm of pâte brisée:
-250 gr flour
-150 gr of butter cut in chunks slight soften
– 5 gr of salt
-1 pinch of sugar
– 1 egg
-1 Cup of cold milk 
***************************************************
Place the flour on top of the working area make a well. Place the butter salt, sugar, and the egg
Mix with the tip-off your fingers.
Bring slowly the flour towards the center and mingle until the dough is sandy. Add the milk incorporate with the tip-off your fingers until all absorbed.
Flatten the dough with the palm of your hand, turn, and mix 4 to 5 times. Squash the dough to render the dough completely homogenized.
Form a bowl, wrap it in a transparent film, keep it in refrigerator until ready to be used.
Former une boule, l'envelopper de film transparent et la réserver au frais jusqu'à l'emploi.