Stella and I firmly believe through time-honored, haunted stories and personal experiences ––that have some degree of truth in them have to be told. We can say with certitude that we do not believe in the after-life, although we had some incredible experiences, that we could not be explained. All of it a Neverland Ranch the playground of the king of pop Michael Jackson.
I was warned on our day one at the ranch, by Indian Jim. 
"You love to work here why?" I ask the tall fellow who waves at me.
"Those lands are the land of my ancestors we are from the Chumash tribe."
"This is a beautiful park, the trees the vegetation it' s paradise on earth."
"It's more than paradise, this was an Indian cemetery."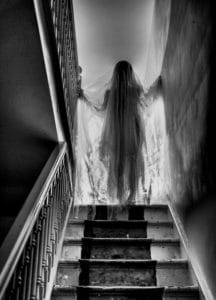 "Oh… I see––That's what the cowgirl was telling me, back at the lodge. This place is haunted."
"Ah, ha… you don't say. You'll see on your own."
"What d'you mean on my own?"
"Everyone at NeverLand has had encounters at one time or the other."
"Stella and I, we don't believe in ghosts."
"You don't ––but they do."
"They?"
"'em ghosts, they'll be visiting, no worry they'll come and say HI!"
"That will be the day," I wave goodbye to my new friend and hopped in the golf cart.
Although we are non-believer, it won't be long before we are faced with some of the most incredible events––enough to make our skin crawl. Silver Fox Book-3 of our series Bonjour Never Land, coming in February 2020