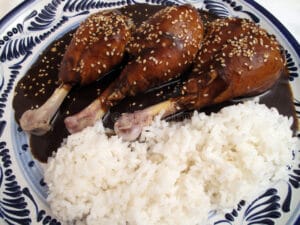 Chicken Mole
Enjoy a typical Mexican dish for the Cinco. The ingredient list is long although a simple recipe to realize. The chocolate sauce can be prepared in advance, to ease your work. The end result should be a winner with its tender shredded chicken in a rich spicy chocolate sauce.
The tools needed for this great experiment.
Kitchen Utensils
Large Saucepan
Baking dish
Mixing Bowl(s)
Stick Blender or Blender
Time needed for this great dish
Prep Time: 10 minutes
Cook Time: 1 hour
Total Time: 1 hour 10 minutes
Ingredients
4-5 cups of chicken broth
4 chicken quarters, add legs and wings
4 cups olive oil
6 garlic cloves, crushed
5 cups diced plum tomatoes
4 cups diced yellow onion
7 dried guajillo chiles stemmed
5 dried ancho chiles stemmed
3 dried pasilla negro chiles stemmed
2 dried mulato chiles stemmed
1 cup sesame seeds, save some for garnish
½ cup pepitas
4 6-inch corn tortillas, more for serving
2 tablespoons sea salt
1 (about 3- 4 ounces) dark chocolate at least 80% cocoa
Accompaniment with long-grain white rice
Steps
Step 1 Bring the chicken broth in a large stockpot on the  high knob. Reduce heat to medium-low, add the chicken. Cook until chicken is tender, about 30 minutes. Remove chicken; set aside on a large plate. When chicken has cooled off, shred the meat
Step 2 Heat 1/4 cup olive oil in a large skillet over medium-high. Add the garlic cloves; cook, with occasional stirs, about 1- 2 minutes. Add tomatoes, chopped onions, stir often to prevent burning, about 6-8 minutes. Transfer mixture to a blender. Process until well mixed, 1 minute. Transfer mixture to a large bowl, put aside.
Step 3 Add 3 cups olive oil; over medium-high. Add the different types of chiles one by one, cook in hot oil 1-2 minutes. Repeat with remaining chiles.
Step 4 Place sesame seeds and pepitas in a medium metal strainer;  Cook, stirring mixture inside strainer and shaking occasionally, until seeds are golden brown and fragrant about 2 minutes. Transfer with Chile mixture to a bowl.
Step 5 Warm up tortillas one at a time. Cook 1 minute. Transfer tortillas to a plate, let cool 5 minutes. 
Step 6 Heat remaining 1/2 cup olive oil in a large pot over medium. Add tomato mixture; cook, stirring constantly until heated through, about 1 minute. Add blended Chile mixture and chocolate. Bring to a simmer over medium-high. Cook, stir occasionally until chocolate has melted and mixture is well together about 20 – 30 minutes. Add cooked chicken and salt to taste. Lower the heat to medium-low; cover and simmer until chicken is well heated 10 to 15 minutes. Serve with rice and tortillas, and garnish with more sesame seeds.
To serve:
Layer fresh tortillas with chicken mole, red onion, and fresh coriander. To compliment add white rice. Buen aproveche Amigo, Viva Mexico!
Side with corn or flour tortillas
Sprinkle each serving with sesame seeds
A variation with burritos