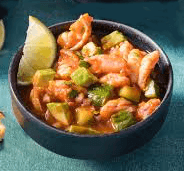 Dipping Sauces for Prawns
Mayonnaise
Ingredients
3 egg yolks
1 tbsp sherry vinegar
125 g Farm Butter
3 dz prawns
Steps
1 Combine yolks and vinegar in a food processor, pulse to combine
2 Melt butter in a saucepan. With the processor running, add butter in a slow steady stream.
3 Serve lukewarm or cold with the cooked prawns
Classic Cocktail Sauce
Ingredients
1 cup Tomato Sauce or homemade ketchup
1 drop of Tabasco
1 tsp of Worcestershire Sauce
2 tsp Lemon Juice
S & P
1 Cup of homemade Mayonnaise
Steps
Mix all ingredients in a small salad bowl. Dress with a slice of lemon
Ingredients
Honey Mustard dipping sauce
Use the mayonnaise previously done
2Tsp whole grain mustard
Steps 
1 1/2 tsp honey
Add the mustard & honey to the mayonnaise until well mixed
Coriander, Ginger and Citrus Sauce
Ingredients
Use the mayonnaise previously done
2 Tbsps finely chopped coriander
1 tsp finely grated ginger
1 tsp finely grated orange rind
finely grated rind of 1 lime
S & P
Steps
Mix au ingredients until well mixed
Mango Sauce
Ingredients
2 dz of cooked, deveined shrimps number 13 or bigger
2 mangoes
1 large clove of garlic
1 tablespoon pink peppercorns
1 tablespoon of fennel seeds
1 piece of fresh ginger (3/4 inch – 2 cm) peeled
2 tablespoons of olive oil
1 pinch of salt
Zest of 1 lime
For garnish fresh thyme 
Steps
1 Peel the mangoes and remove the core. Cut the first one into 16 small cubes and puree the second in a blender. Keep aside and spread a few cubes with each cocktail.
2. In a large skillet, heat the oil and roast peppercorns and fennel seeds until the mixture becomes fragrant. Then add the garlic clove cut in half and the shrimps. Cook for 3 minutes, stirring regularly. When shrimp are cooked, add grated ginger and sea salt; stir for 2 minutes, let cool.
3.  The cocktail glasses with the mango puree, then arrange the shrimps inside the glasses. Grate the zest of lime over and garnish with a few basil leaves.