A whole roast duck makes a great centerpiece for a Christmas dinner. With its rich, complex, gamey flavor, it is much more flavourful than other poultry and can stand up to strong, robust flavor pairings which is why it is popular in Chinese cuisine served with a tangy hoisin sauce.
WHOLE ROAST DUCK
A large duck, 5 – 6 lb
S & P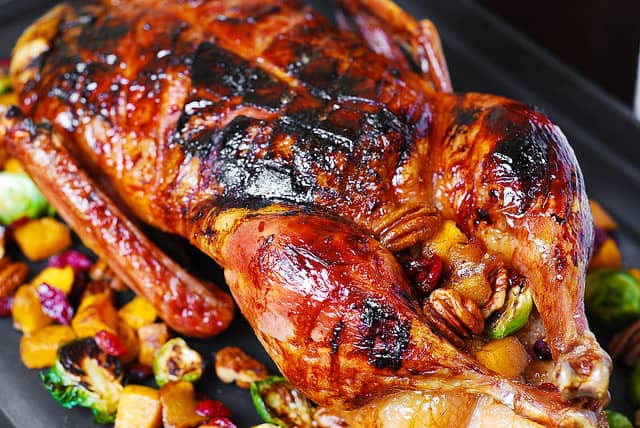 Method
1 Start the whole roast duck by pre-heating the oven to 220°C/gas mark 7. Remove giblets from inside the cavity of the duck and prick the skin of the duck all over with a skewer; this will allow excess fat to render off the duck during the cooking process.
2 Season the duck with salt and pepper and place on, a roasting rack inside a roasting tray. Cook for 30 minutes, then turn the oven down to 170°C/gas mark 3 and cook further for 1 hour and 10 minutes. Rest for 15 minutes in a warm place before carving
3 For the Szechuan sauce, heat the sunflower oil in a heavy-based saucepan and sweat the onions for 3-4 minutes without coloring. Add the garlic and the chilies and continue to cook for 2-3 minutes, again without coloring
1/2 cup of chopped onion 
1/2 garlic clove 
4 to 5 medium-size green chilies 
4 to 5 medium-size red chilies 
4 Rinse the black beans thoroughly under cold water. Place into a suitable sized pot, cover with cold water, and bring to a simmer for 10 minutes. Once cooked, strain the beans and reserve for the next step
1 cup of Chinese black beans 
5 Add the black beans, stir through until hot before adding the sesame seed oil towards the end of the cooking process
6 Add the chicken stock, brandy, white wine, oyster sauce, and soya sauce and bring to a boil. Dilute the cornflour with a little water and then whisk into the simmering black bean mixture. Cookout until the sauce slightly thickens for 2-3 minutes
3 cups of chicken stock
2 Tbsp of brandy 
1 pint of white wine
1 tbsp of soy sauce
1/2 tbsp of oyster sauce
7 Carve the duck and serve with the hot Szechuan sauce