This recipe needs 10 cents of savvy artist skill. The dough (pastry dough) needs creation and will be cut into a face. Example as a Jack O'Lanterne type of thing, but please make your own design, with a sharp knife and a spoon that's all the tools you will need. You can draw the shape on the dough with a pencil, having cut off the lead not to give any bad specs of lead.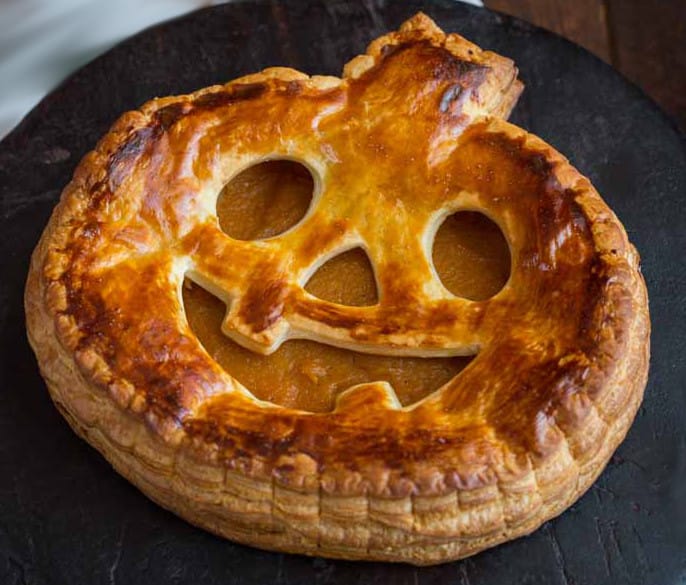 Galette feuilletée au Potiron
A galette in the shoe of a Halloween Pumpkin garnished with pumpkin galas
Type of dish Dessert
Préparation  time15 minutes
cooking time25 minutes
total time 40 minutes
Portions 4 people
Ingrédients
2 Sheets of Pastry dough 
1 egg yolk to brush seal and give a golden look to the pastry
For the Mixture:
2 large apples 
a small size pumpkin 
1 orange 
3 soup spoons of sugar
½ coffee spoon of Cinnamon 
Instructions
Peel the apples, remove the seeds, and cut them into 1/4-inch squares. Cut the pumpkin the same way. Place both concoctions in a saucepan, add the sugar, the orange zest, and the orange juice, and cook for 10/15 minutes on medium fire. Until the concoction is tender. Mix with the mixer add the Cinnamon and let it cool off.
Cut the one pastry dough into a pumpkin face. Cut the eyes, mouth & nose on the other one. Leave the other disk plain, Place the uncut one on a cooking sheet covered with cooking paper. garnish with your cooked mixture. leave 1 ice around clear. Whip an egg yolk with a 1/2 soup spoon of water, and brush the clear dough around the mixture. Place the cut-off piece on top, and make sure it is well sealed with the bottom piece.
Brush the top part with the rest of the egg yolk mixture. place in refrigerator for theme necessary for your oven to reach 425F And cook for 25 minutes.