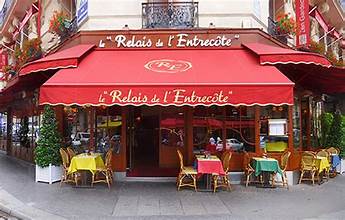 L'Entrecôte
The famous restaurant in the 17th arrondissement in Paris, near Porte Maillot, is a family business. Born in Toulouse has spread out in the Middle East and to Barcelona. What is the secret? The sauce is served with a great cut, une Entrecôte. with French fries and a dinner salad adorned with chestnuts and a mustard dressing. For dessert Profiteroles. The secret sauce has been the subject of many attempts to find the SECRET. Prepared in secret locations and brought in sealed containers to each individual restaurant. Lucky you, will get the recipe at the end of this article. Meanwhile.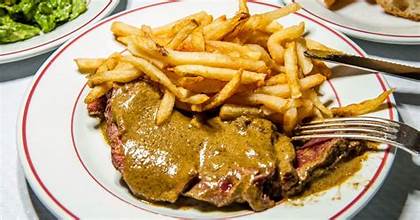 The wine list is skimpy; they use only the wines produced in the owners' Chateau de Saurs.
Chateau de Saurs
"La Secrete Sauce."
It is made from chicken livers, fresh thyme, full cream, white Dijon mustard, butter, water, plus salt and pepper. The chicken livers are blanched in one pan with the thyme until they start to turn color. In a second pan, the cream is reduced on low heat with the mustard and infused with the flavor of thyme. The chicken livers are then finely minced and pressed through a strainer into the reduced cream. As the sauce thickens, the butter is incorporated into it with a little water, then beaten smooth, fresh-ground sea salt from Guérande, and fresh crushed red and green peppercorns are added.