Lobster Risotto a Northern Italy specialty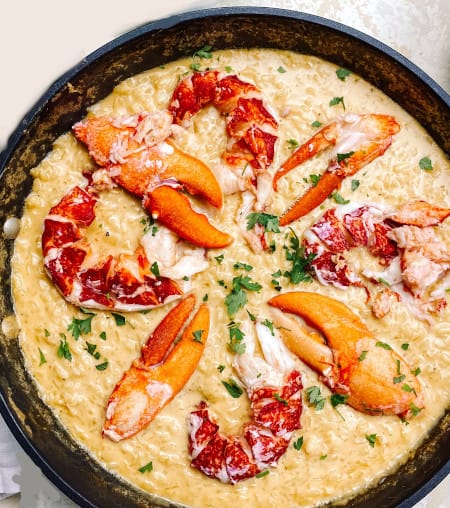 for 6 people
Preparation 1 hour
Cooking 45 minutes
Ingredients
Good quality fish stock 1 1/4 cup
For the risotto
Unsalted butter 2 tbsp
Olive oil 1/4 of a cup
A  sprig of Shallots
Garlic one clove crushed
1 1/2 cup Arborio rice
Freshly ground black pepper
Salt to taste
1 cup of dry white wine (Muscadet best)
1 bay leaf
1 medium-size onion chopped
1/2 cup of heavy cream
Cooked lobster meat 2 x12-pounder
Grated parmesan cheese 1/4 of a pound
Chopped parsley
Fennel
Lemon wedges (8 to 10)
Make the risotto
1 Throw shallots, fennel, and onion in your food processor. Run for 30 seconds.
2 On highest in a pan mix butter and olive oil. Cook shallots, onion, fennel mixture until translucent, cook a little longer until slightly caramelized. About  4-5 minutes. 
3 Add the crushed garlic, cook for 1 minute further.
4 Add rice and seasoning. Stir, make sure the rice with butter and oil.
5 Now it is time to pour the wine, continue cooking. stir continuously until wine is reduced to almost nothing.
6 Add the stock, bring to a simmer. don't stop stirring.
7 when the mixture comes to a boil add the bay leaf, cover, and throw in a preheated oven at 450o for 15 minutes.
8 take the risotto out of the oven stir well
9 Cook stirring continuously for 5 minutes until the rice cooked. By now the concoction is creamy.
10 remove the bay leaf
11 add the remaining stock, add butter and cream and bring to simmer.
12 when risotto is thoroughly mixed and simmer, add the lobster to the risotto. Cover and put back in the oven for 5 more minutes.
To serve
Grate parmesan on top of the dish and serve