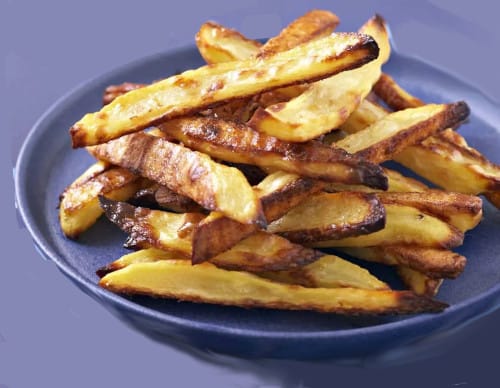 Ingredients
1 1/2 lb of russet potatoes
2 soup spoons of Olive Oil
Salt from Guerande
Preparation: 10 minutes
Cooking time: 30 min
Steps
1. Wash and peel the potatoes. Cut in medium sticks 1/4 of an inch thick
2. In a salad bowl, drop the olive oil on top of the fries, lightly salt. mix them well.
3. Spread the fries on a metal tray covered with aluminum foil. Cook 30 minutes in a pre-heated oven at 320°F. from time to time watch the cooking process. If the fries take a too colored tone lower the oven temperature.
Trick of the trade
The larger potatoes you use, you'll be able to make longer fries.  The mealy potato Russet Potatoes are high in starch and low in moisture which makes them absolutely delicious for french fries