Write the best ending for Book-5 Clint of the Series Bonjour Never Land.
The contest is open to anyone who feels to have the answer to the intrusion of Sophie and Pierre in the hidden world of the Crazy Rich and Famous. In order to get the feel of our story, you'll need to read the 4 Books. Stormy Sophie, Money Galore, Silver Fox,   & the final book Clint is yours for the finish.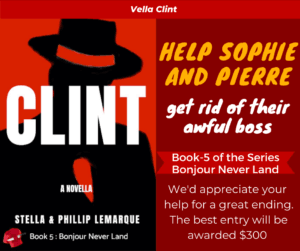 Any would-be Hemingway, please read,
Get your thinking cap on, and write the end of this series with brio. The five winning entries will be published and offered to the public to select the winner.
Winner will cap a $500 reward.
Enter a contest to win. We need a smashing ending for our book-5 Clint of our series Bonjour Never Land. The selected text will be awarded $500. The selection will be done by the authors Stella & Phillip Lemarque, their selection will be final and without any possible appeal.
       
Money Galore, Silver Fox, and Stormy Sophie are available on Amazon. Cap'n Hook will be available in May 2022.
An incomplete copy of

Clint is now available for FREE. Get the feel of the story and write the ending, in less than 2,500 words to be eligible for our contest. Good luck!
Send your story to  Stella & Phillip Lemarque; eMail: jackLenotre@GMX.com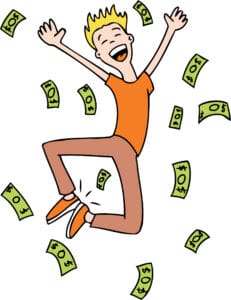 Previous Chapter: Book-3 Silver Fox
Pierre and Sophie take their culinary expertise to the extravagant country estate of a mysterious superstar, Silver Fox. The fantasy ranch comes with its own cast of characters and a phantom crowd of mischievous residents. The opportunity for making an easy million is too good to pass up–but may be too slippery to hang onto.
Rules of the Contest
All submissions become the property of Bonjour Never Land. The deadline is November 30th, 2022. Length of the story 4000 words or less. Text will be uploaded in our email: new email preferred format: pdf.
There is no limit to the number of submissions. Good luck!