Write the best ending for Book-5 Clint of the Series Bonjour Never Land.
The contest is open to anyone who feels to have the answer to the intrusion of Sophie and Pierre in the hidden world of the Crazy Rich and Famous. In order to get the feel of our story, you'll need to read the 4 Books. Stormy Sophie, Money Galore, Silver Fox,   & the final book Clint. Clint is available on demand. You will be forwarded a pdf unfinished copy. Click on each book to get the link.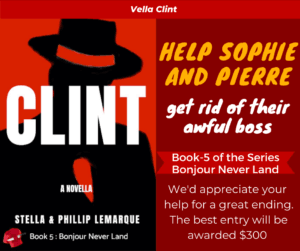 Enter a contest to win. We need a smashing ending for our book-5 Clint of our series Bonjour Never Land. The selected text will be awarded $300. The selection will be done by the authors Stella & Phillip Lemarque, their selection will be final and without any possible appeal.
       
Money Galore, Silver Fox, and Stormy Sophie are available on Amazon. Cap'n Hook will be available in May 2022.
An incomplete copy of

Clint is now available for FREE. Get the feel of the story and write the ending, in less than 2,500 words to be eligible for our contest. Good luck!