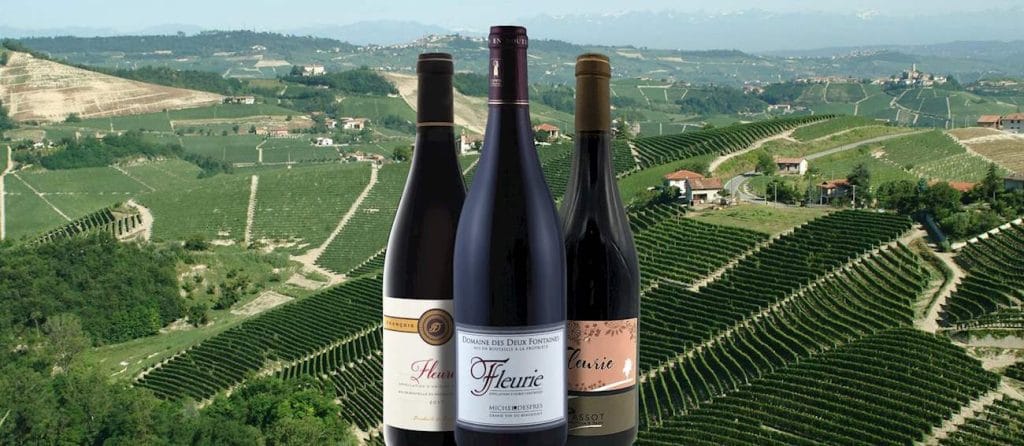 HEAVENLY LANDSCAPES, HOME TO FRAGRANT WINES
150 winegrowers gravitate around the Fleurie appellation, which gets its lightness from the Avenas, Durbize, and Labourons range.  The Fleurie vineyards grow in sandy soil with the weathering of pink granite.  This specific terroir gives the wine its delicate, elegant robe and its floral notes, which is why it is called a "feminine wine."
Fleurie wines have very distinctive flavors, depending on where the vines are grown; some crus are much more full-bodied than others. The iris, violet with peach notes, guarantees a fleshy structure.
The name Fleury comes from a Roman legionary called Florus, who was said to have settled down in one of the hills overlooking the vines.
A UNIQUE LANDSCAPE
At the end of the Tertiary Era, exceptional tectonic and magmatic processes changed the landscape forever. The land was thrust upwards hills formed across the Beaujolais region, which were shaped by erosion over the years. The 50% slopes give outstanding views over the area.
ELEGANT FLAVORS
Fleurie wines have a certain unique softness in comparison to other Beaujolais appellations. Ninety percent of the terroir is made up of pink granite that is undergoing slow erosion. The uneven weathering produces wines that are unique and different from one year to the next.
The Fleurie on the palate is frank, the acidity is low with gentle tannins.  These Beaujolais wines are as good as aperitifs or with red or white meat.
The terroir plays a role in the fruity, floral flavors… Fleurie has a range of nuances that can give it a delicate bouquet or a full-bodied structure. The best idea is to come and taste it right on-site.