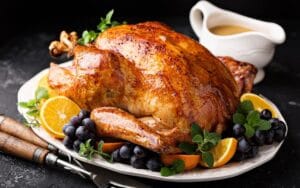 THANKSGIVING TURKEY
YIELD: 8–10 servings
PREP-TIME: 20 min
TOTAL TIME: 2 ½ TO 3 HOURS
To Cook a 12-pound turkey: 3 hours at 375 F or higher.
INGREDIENTS
A 12-pound turkey
3 celery stalk quartered ( reserved 2 quarts to stuff the inside of the turkey)
3 carrots quartered  ( reserved 2 quarts to stuff the inside of the turkey)
3 onion peeled and quartered  ( reserved 2 quarts to stuff the inside of the turkey)
1 whole garlic
1 lemon quarter
1 apple ( any kind) quartered
1/3 cup chopped fresh rosemary
1/3 cup chopped fresh thyme
1/3 cup chopped sage
Salt & Pepper to taste
INSTRUCTIONS
Preheat oven to 375F
Remove turkey from packaging and remove the neck, giblets from the inside the cavity of the bird. Set aside for later to use in the gravy. Rinse turkey inside and out, and pat dry with paper towels.
Season the cavity of the bird with salt and pepper. Stuff it with two quartered carrots, celery, onion, apple, and the quartered lemon, along with the leftover herbs.
Tuck the wings underneath the turkey, and tie drumsticks together with kitchen string. Place the rest of the vegetables, carrots, celery, onions, garlic, and fresh herbs on the bottom of the roasting pan. Add some olive oil and set the turkey on top of the veggies. The veggies will add great flavor for the dripping to use for the gravy.
Roast at 375 F for about 15-20 minutes per pound. Start with the bird uncovered. Halfway check the turkey and once the skin gets golden brown, cover the pan with foil, to protect the breast meat from overcooking. 30 minutes or so of cooking, take off the foil to let the turkey brown. let it cook until the internal temperature (inserted on the middle of a thigh and breast) reaches about 165 degrees.
Remove from the oven. Tent it with foil, and let it rest on the counter. Allow the turkey to rest at least 20 to 30 minutes before carving.
When taking the turkey out of the oven, reserve any drippings and juice remaining in the roasting pan. Pour the dripping and the liquid into a large bowl.
Let the liquid sit for 5 to 10 minutes, allowing the fat to separate from the rest of the dripping. Use a large spoon or ladle to skim out the fat from the top. Reserve ½ cup of the fat drippings to make the gravy.
The Simplest Stuffing
SERVES: 8 to 10
INGREDIENTS
1 pound good-quality day-old white bread, torn into 2" pieces (about 10 cups)
3/4 cup (1 1/2 sticks) unsalted butter ( plus more for baking dish)
1 1/2 cups 1/4″ slices celery
2 1/2 cups chopped yellow onions
1/2 cup chopped flat-leaf parsley
2 tablespoons chopped fresh sage
1 tablespoon chopped fresh rosemary
1 tablespoon chopped fresh thyme
2 teaspoons kosher salt
1 teaspoon freshly ground black pepper
2 1/2 cups low-sodium chicken broth,
 STEPS
Preheat the oven to 250°F. Butter a 9×13″ baking dish and set aside. Scatter the torn 2" bread in a single layer on a baking sheet. Bake, stirring occasionally, until dried out, about 1/2 to 45 minutes. Let cool; transfer to a very large bowl.
Meanwhile, melt 3/4 cup butter in a large skillet over medium-high heat; add onions and celery. Stir often until just beginning to brown, about 8 to 10 minutes. Add to the bowl with bread; stir in herbs, salt, and pepper. Drizzle in 1 1/4 cups broth and toss gently. Let cool.
Preheat the oven to 350°F. Whisk in the broth over the bread mixture; fold gently until thoroughly combined. Transfer to the prepared dish, cover with foil and bake for about 30 minutes. Uncover and bake for another 10 to 15 minutes. Or until the top is brown and crisp.
CHEF'S TIPS: Stuffing can be done a day ahead. You can use vegetable broth instead of chicken, to make it vegetarian-friendly.
CHESTNUT & APPLE STUFFING
YIELDS: 10 SERVING
Prep-Time: 20 minutes
Total Times: 1 hour
INGREDIENTS
1 pound of a day-old of loaf French bread, torn into 1 inch pieces
3/4  cup ( 1 1/2 sticks ) unsalted butter, plus more for the baking dish.
2 tbsp olive oil
2 1/2 cup low sodium chicken broth
2 1/2 cups of cooked chestnut
2 cup chopped yellow onions
1 1/2 cups slice 1/4 inch celery
1/2 cups chopped flat-leaf parsley
1  tbsp finely chopped rosemary
2  tbsp  chopped thyme
1 1/2 tbsp chopped sage
2 cubed granny Smith
1 cup sliced toasted almonds
1/2 cup chopped toasted pistachio
1 cup dried cranberry, soak in bourbon or any alcohol of your liking.
Salt & pepper to taste
STEPS
1/ Preheat the oven to 300F. Arrange bread cubes in a single layer on a baking dish, and bake stirring occasionally, until bread dries out. About 1/2 hour to 40 minutes. Let cool and transfer to a large bowl.  Meanwhile, butter the 18×12 inch skillet and set aside.
2/ Heat butter and oil on medium-high heat until melted. Add celery, onions, apples, rosemary, sage, parsley, thyme. Salt & pepper. Cook for 5 minutes or until softened. Add chestnut, while stirring occasionally. About 10 minutes.
3/ Add the vegetable to the bowl of bread. Stir in herbs, almonds, pistachios, cranberries with the alcohol. Salt and pepper to taste. Drizzle the chicken broth, fold gently until thoroughly combined.
4/ Transfer to the prepared dish. Cover with aluminum foil and bake for 30 minutes. Uncover and bake for another 5 to 15 minutes or until the top is golden.
CHEF'S NOTES: The stuffing can be assembled and cooked up to a day ahead.
1/ Spray the top with chicken broth and cover with aluminum foil. And bake as directed.
2/ If cooked ahead it can be microwave: Spray the top of the casserole with the chicken broth, cover with saran wrap, to keep it moist. Microwave as directed.
Enjoy & Bon Appetit!  Stella
MAKING THE GRAVY.
Ingredients:
1/2 cup of fat from the dripping

1/2 cup all-purpose flour

1 chopped shallot

3 tbsp Dijon mustard

1 rosemary sprig

2 thyme sprigs

4 cups low-sodium chicken broth, turkey or vegetable broth

Salt & pepper to taste

Giblets, neck from turkey 
To make the gravy, use a large saucepan and add 1/2 cup of the fat dripping to the saucepan with shallot. Saute 1 or 2 minutes. Whisk in flour, whisking constantly over the heat as it begins to brown to make a roux. Cook until roux is light brown, about 2 minutes. Whisk in the Dijon mustard, rosemary, thyme, add 4 cups of the dripping broth.
Bring to a boil, whisking constantly until thickened. Boil until gravy coats the back of the spoon. Then add the giblet's meat. Season with salt and pepper to taste.
At this point, decide if it's the right consistency. If too thick, add more broth or dripping liquid and cook it for another 5 to 10 minutes. If it's too thin, mix 1 tablespoon cornstarch to 1 tablespoon of water, and add it to the gravy. Continue cooking until the desired consistency.
Sides
Mashed Potatoes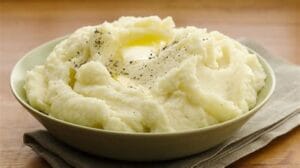 Yukon Gold, Russets, Idaho the best? The jury is still out. Your choice will be the best.
avoid watery potatoes. Darin the potatoes and return them to the cooking pot, shake for 1-2 minutes until all excess moisture is gone zip… The spuds will be creamy, not watery. Do not use a food processor to puree the spuds, use a hand smasher.
Add butter, use to taste, and add heavy cream or sour cream (not much) just enough to make the batch smooth.
Peas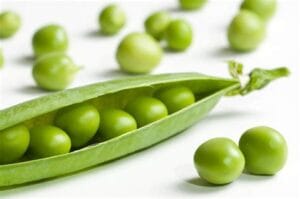 6 tbsp butter
Mild tasting onion chopped
2 shallots chopped
S & P
add 2 lbs of peas cook for 15 to 20 minutes on medium flames
Don't forget to stir the mixture every so often.
1 cup chicken broth
2 tbsp chopped mint
Add a Caesar salad to the party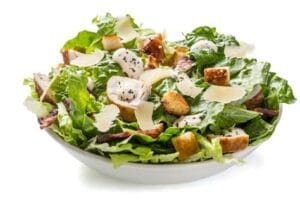 2 Romain salads chopped
Croutons to taste
Parmesan cheese grated
Olive Oil
1 soup spoon of Balsamic Vinegar
S & P
3 to 4 Anchovies
1 egg yolk
3 cloves of garlic
1 1/2 tbsp lemon juice
1 tsp chopped parsley
Steps
beat the egg yolk with whip incorporate slowly the olive oil. If the mixture breaks, add a 1/2 soup spoon with medium-hot water and continue beating. Beat mixture until you obtain a mayonnaise.
Mix mayo with vinegar, add to the bowl with the salad, croutons, and smashed anchovies with a little of the olive oil. Before serving add the croutons and the grated cheese.
Chef's Tip
The stuffing is the most important with the chestnuts it will be divine
Geysers and heart will make your stuffing moist. Baste regularly your bird with the cooking juice. You can add chunks of tomatoes, garlic, shallots, and even chicken broth to the sauce. If you don't have mashed potatoes, you can add potatoes already cooked in the juices in the last 30 minutes of the cooking time.
Thanksgiving leftover
How to Store Leftovers
Let leftovers cool before storage. Pack the food into several shallow containers don't stack them (it might trap the heat.) Cut the meat off the bones and divide it among plastic bags. 
How long can you keep leftovers?
You can store your leftovers in the refrigerator for up to four days. Reheat only what you'll be serving rather than reheating the entire lot. The more often reheated the food will lose flavor.
Use a thermometer to make sure your leftovers are reheated to 165 degrees F. Sauces, and gravies should come to a full boil before reuse. With a microwave, cover the food and rotate it frequently to make sure it heats evenly.
How to freeze leftovers?
Freezing keeps food safe by preventing the growth of bacterial. 0 degrees F is the accepted temperature for storage for up to two months.
Don't forget to label and date your leftovers.
Should you let the food come to room temperature or put it straight in the refrigerator?
Food never has to come to room temperature before storing it. In fact, the less time it spends at room temperature the better.