I did find to my surprise that many people have never tried fresh tuna. The best tuna is the freshest tuna. If you are buying tuna at the grocery store or fish market, try to stay away from those pieces that have white streaks running through them. Fresh tuna can be prepared in many ways. Do not freeze tuna. Ice crystals, created by freezing, change the texture of the flesh tuna. The best way to eat tuna is seared. Use very high heat and use cooking oil that has a very high smoking point like sesame oil, or grape-seed oil. Sear for only about 20 to 30 seconds per side. Tuna should be very rare and have a cool center. If tuna is seared too long it can develop an off taste and texture. Follow my recipe, that's all there is to it.
Seared Tuna Recipe Simple, quick, and delightful
Ingredients
2 tbsp sesame seed
1 tbsp olive oil
1/2 tbsp sesame oil
1 tsp grated ginger
1 minced garlic glove
2 1/2 lime or lemon juice
2 1/2 low sodium soy sauce
2 pinch of sugar
1 tsp red pepper flakes 
2 handfuls fresh minced cilantro
2 green onions, thinly sliced (white & green)
Freshly ground pepper
Steps
1 In a mixing bowl whisk ginger, garlic, soy sauce, lime/lemon, sugar, and pepper flakes. Stir until combine.
2 Place tuna steak in the marinade cover. Refrigerate for 1 hour.
3 Spread sesame seed and freshly grated pepper onto a plate. Remove tuna from marinade. Set marinade on the side. Press tuna into sesame seeds, until evenly coated. 
4 Heat olive & sesame oil in a saucepan, over high heat. Sear the tuna into the hot oil for 1 minute on each side (rare), or longer to the desired doneness, (2 minutes medium-rare). Place the seared tuna on a plate.  Cover with foil to rest about 5 minutes.
5 Meanwhile, add the marinade to a skillet over medium heat. Cook it until reduced.
Serve the seared tuna sliced or diced into 1/1 inch. Sprinkled with minced cilantro and green onion. Drizzled the sauce over the whole plate. Enjoy!  
Suggested wine to complete an awesome evening.
The 2017  Greysac Medoc, 
Merlot, Cabernet Sauvignon, Cabernet Franc, Petit Verdot, Medoc rated at  91 well worth the money,  $32 a bottle.
This wine has a perfumed bouquet with plenty of tobacco-infused black fruit, The palate is medium-bodied with fine tannin, crisp in the mouth with a very precise finish that deserves a round of applause.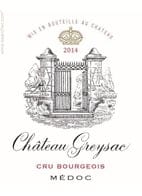 Dense, acidity and black-currant fruits give it character and richness. This wine displays aromas and flavors of black fruit, licorice, and a hint of oak. Enjoy with my Ahi Tuna recipe.
Stella