"Vin Jaune, what are you talking about?"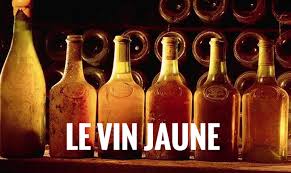 "We need a little bit of history for our readers. That will lose them in the unconsciousness of the abysses to the path to become an acknowledgeable wine connoisseur. 
Let's talk about Vin Jaune (Yellow wine.) It is a characteristic type of wine, from the Jura region, North of Lyon, and squashed between Burgundy Region and Switzerland. It is similar to a dry Sherry, with character acquired form "le voile." after a séjour in a barrel under a film of yeast on the wine surface. The wine is made with Savagnin grape, which grows in *Marl vineyards, such as Château-Chalon AOC. 
Only whites wines from the Savagnin grape made in the Vin Jaune style can be made using this appellation. The wine is bottled in the traditional bottle called Clavelin of a peculiar shape and of s 62cl capacity, which is according to local legend, the amount left of a liter of wine aging in a cask for six years and three months, which is the legal limit for Chateau Chalon.
Vin Jaune is a special and characteristic type of white wine made in the Jura region in eastern France. It is similar to dry Fino Sherry and gets its character from being matured in a barrel under a film of yeast, known as the voile, on the wine's surface. Vin jaune shares similarities with Sherry, although, unlike Sherry, it is not a fortified wine. The wine is made from the Savagnin grape. Examples coming from the marl-based vineyards in the Château Chalon AOC (Appellation of Origin Controllée.) Nothing to do with our national Alexandra Ocasio-Cortez. In other French wine regions, there has been experimentation in producing similar style wines from Chardonnay and other local grape varieties using cultured yeast such as the vin de voile wine produced in the Gaillac region.
This  region makes claims to be among the earliest wine producers of ancient Gaul (the birth of France.) Archaeologists have found Roman potteries in the region. King Francois I, of France gave King Henry VIII 50 barrels of red wine from the region in 1520.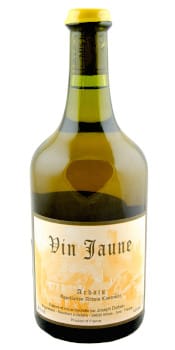 *Marl Stone
A sedimentary rock containing a mix of clay and calcium carbonate. Compositionally, marls comprise 35% to 65% clay and 65% to 35% calcium carbonate. Thus, marl encompasses a spectrum that ranges from calcareous shale to muddy or shaley limestone.