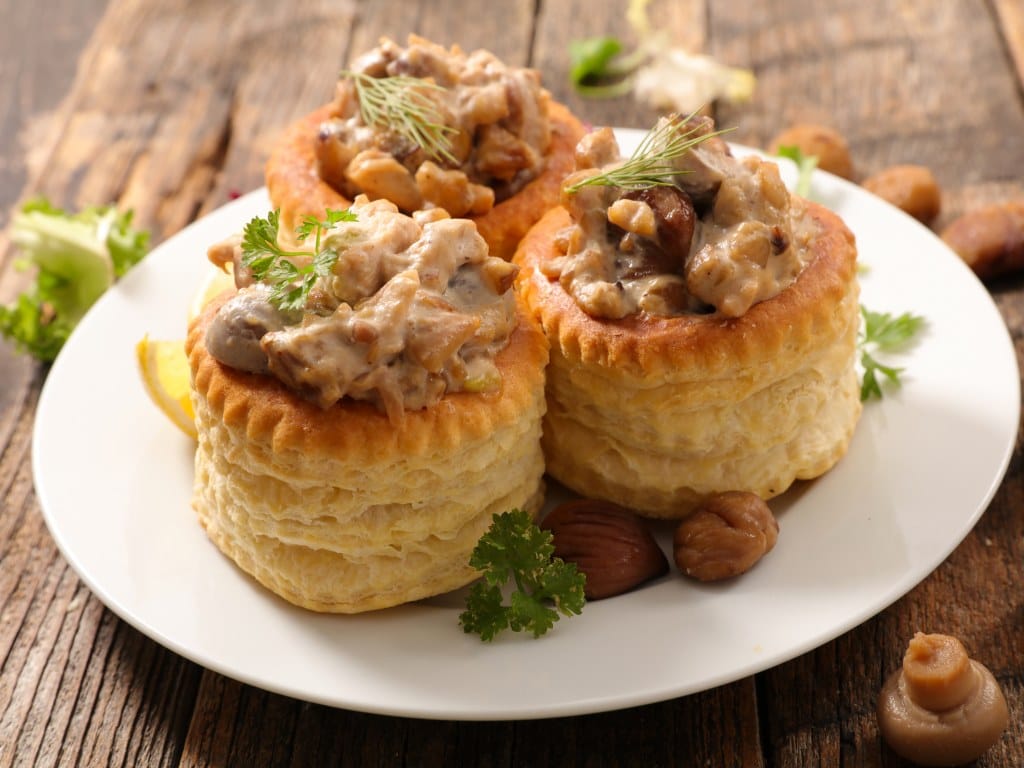 Bouchées a la Reine
Bouchées a la Reine have always been associated with refinement and elegance, served on special occasions. Let's not forget the wines to carry the accompaniment to the special occasion. A white wine such as Burgundy blanc: Montagny, Hautes-cotes-de-nuits. Pouligny Montrachet or a Vin Jaune from the Jura Region. If the seafood takes over in the Bouchée a la Reine then a swing to Alsace with a Riesling might be the answer.
The main ingredient of Bouchées a la Reine is actually the "Pâte feuilletée." Best to be purchased from your bakery or specialty store. Pair with: Beaune du Chȃteau Blanc
Bouchées à la Reine with leeks, mushrooms, and ham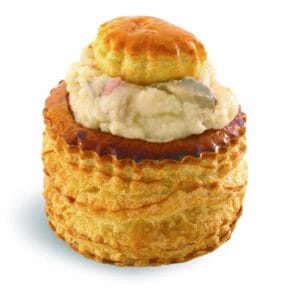 INGRÉDIENTS:
4 Bouchées à la Reine
1 small leek
1 a fist full of white mushrooms
1 slice of ham slices                                                                                                                          4 oz of milk
4 oz unsalted butter
3 oz of flour
2 Tsp of Olive oil
Black pepper and Guérande sea salt
Pré heat the oven to 425° 
For 2 PEOPLE                                                                                                              PRÉPARATION: 40 min                                                                                                           Cooking Time: 15 min                                                                                
1 Add butter to a pan and cook over medium heat. Make sure the butter doesn't burn.
2 Roast to golden the leeks
3. The exact same process to cook the mushrooms
4. Prepare now the béchamel, in microwaves for 1 min place the butter in a bowl
5. Take it out from the microwaves, and add 2 cuilléres a soup of flour. Mix to avoid clumps
6. Pour the milk into a saucepan, bring it to a boil. Let it boil for a few more minutes. 
7. On your cutting board, wash and detail the leek in thin slices.
8. In a saucepan pour 1 tbsp of olive oil.
9. Slowly pour the boiling milk into the preceding mix, without stopping the whipping—salt and pepper to taste.
Place your sauce in the microwave oven for one more minute.
10. At the oven exit, whip the preparation again.
11. Cut the ham into small pieces, then mix all the ingredients in a salad bowl: Leeks, mushrooms, ham, and the béchamel.
12. Fill the bouchées a la Reine with the preparation, slide them into the oven for 15 minutes.
13. Serve.