Egg en Meurette? What are those?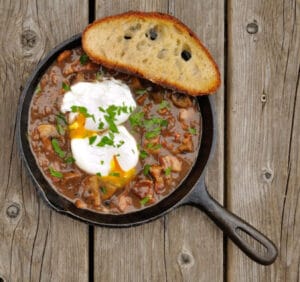 Simply put, Poached Eggs in a rich flavored Red Wine Sauce. It's a classic Burgundian dish. And the secret is to accompany this classic Burgundy dish with the right wine. "A glass of red Burgundy." "Nope… not at all. A glass of Vin Jaune."
"OOooo… LA… la, what did you say?" "Vin… what? Jaune. What the heck is that?" "Lemme explain––" "Yeah, you'd better…, Who the heck has ever heard of…, What vin jaune?" In Plain English, it is 'Yellow wine.' Vin Jaune is indeed a miracle. (Yellow wine) is a step away from our Burgundy escapade. It came as a diversion, I decided to jump into a new wine venture, when Phillip asked, "I feel like Eggs en Meurette."
"I haven't heard that since I left Provence."
"Yeah, something different… out of the ordinary."
"Egg Meurette will be out of the ordinary for sure."
"Accompanied with Yellow wine."
"Holly macro… that will be something interesting––Indeed."
Find out about Le Vin Jaune
Here is the Egg-Meurette Recipe
Ingredients
1 1/2 cups homemade chicken stock or store-bought low-sodium broth
4 ounces slab bacon, chopped into small pieces
6 ounces cremini mushrooms quartered
Olive oil, as needed
Sea salt and black pepper from the mill
2 medium carrots cut into 1/2-inch dice
4 pearl onions
2 medium shallots, cut into small pieces
2 medium cloves garlic
1 sprig thyme
2 cups of red Burgundy wine
2 tablespoons unsalted butter
1 1/2 tablespoons flour
4 to 6 pieces toasted country bread
8 Poached eggs
Parsley for garnish
Directions
1. use a measuring cup for the chicken broth
2. In a saucepan, cook bacon over medium-high heat, stirring occasionally, until browned about 5 minutes. Transfer bacon to a plate, leave bacon fat in the saucier.
3. Add mushroom to the pan, cook, stirring, brown mushrooms, about 6 minutes; add olive oil as needed if saucepan becomes too dry. Season with salt and pepper.
4. Add reserved mushroom stems, diced carrots, shallots, garlic clove, and thyme sprig to the pan, stirring, until just starting to brown; lower heat. Add red wine and bring to a simmer. Continue to simmer until wine is reduced by half.
5. Mix butter with flour, keep cool.
6. Add chicken stock and return to a simmer. keep on cooking until reduced by one-third. Strain sauce into a metal bowl then returns to the pan. Whisk in butter-flour mixture, then simmer until sauce begins to thicken and coats the back of a spoon, 3 to 4 minutes. Season with salt and pepper.
7. Add bacon and vegetable garnishes to the sauce and heat through. Rub toasts with remaining clove of garlic, then set on serving plates. Slide 2 poached eggs onto each toast. Spoon the sauce and garnishes all over, sprinkle with parsley, and serve right away. Don't forget a glass of Vin Jaune.
*Marl or mudstone which contains clays and silt deposited when the region was a sea some 400 million years ago.