Prep 20 minutes Cooking time: 20 min
Market for 6 guests 
2 tbsp olive oil
6 medium Pumpkins 
Potatoes : 8 
Chicken broth : 1 &1/2 quart
Crème fraîche : 1/4 lb
Half & half 3 soup spoons
2 onions & 1garlic clove finely chopped
Garlic Toasts (2 doz)
Cinnamon to taste
Ginger 1 Tbsp
Coriander
2 tbsp olive oil
Parsley chopped to top the dish
Salt & White Pepper to taste
serve the soup in previously saved pumpkin husks (6 all together)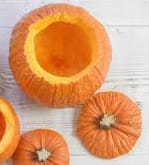 Steps
Cut the inside of the pumpkin without damaging the husk. Remove all the pulp, cut in large pieces 2'' square
Peel potatoes
1 Place pumpkin and potatoes in steam cooker. At the same time warm the chicken broth 
2 Mix the pumpkin, potatoes, add the chicken broth in a steady stream.
3 Sauté in a pan with the olive oil, the garlic and the onion and the ginger, corriander. Add to mixture.
4 Reserve in a sauce pan, add the creme, simmer
5 Mix well, add the cinnamon, ginger and S&P. Bring to a boil
6 Garnish with coriander
7 Serve in the reserved husks add chopped parsley to each serving. 
Serve toasts on the side
For the Garlic toasts: 2 tbsps olive oil –  4 slices of French baguette toasted – rub the toasts with a garlic clove – spread pumpkin seed on top.