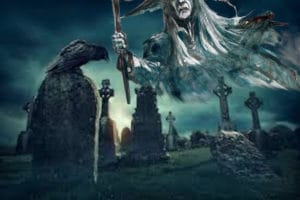 The night of St Sylvester is the night of the new.
The black witch of winter is receding in the dark shadows of the cold winter and replaced by a young one a brand new year.  L' Ankou is the right arm of death and will come riding his horse-driven cart that very same night to choose who will die in the coming year. Maurice the carpenter who makes coffins gets from a sorcerer the secret on how to be able to see L' Ankou who is invisible to the common of mortals. The sorcerer warns Maurice of the danger to provoke death. The greedy carpenter ignores the danger all he wants is to be able to count how many people will die allowing him to order only the right amount of wood to build the right number of coffins. 
At exactly midnight on the eve of the St. Sylvester the wooden door screeches, the bones of the skeleton draped in a black coat slides with his wooden shoes over the cold stones of the church's floor. Hidden behind a column the carpenter can see L' Ankou while reciting the magic formula taught to him by the sorcerer while keeping one hand in the holy water basin. L' Ankou does a 180 and looks at the people gathered in the church, he walks slowly among the people and every so often touches someone's shoulder, who shivers. That person will be dead before the end of the year. The carpenter counts all the ones picked by L'Ankou that are so many coffins––Good for business. L' Ankou reaches the tabernacle where our carpenter is, Maurice looks at the empty eye of the skeleton who raises his scythe. The carpenter knows that L' Ankou can hit only one time, if he can jump to the side when the blow is given and avoid being hit, he will acquire eternal life. The scythe is raised and when L' Ankou lowers the scythe to hit him, Maurice wants to jump to the side, but can't since his hand is frozen in the holy water basin, he dies instantly.